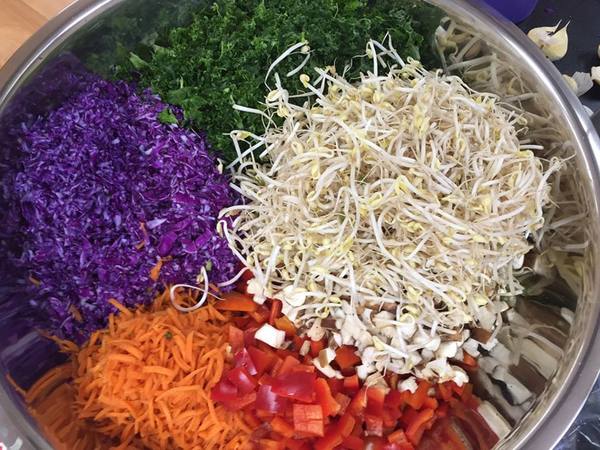 Rainbow Arame Salad
Arame is a mild-flavored sea vegetable that is loaded with all the minerals of the ocean. The combination of fiber and vitamin-rich vegetables makes for a nutrition packed meal!
Updated: Mon, 05/13/2019 - 8:51pm
Ingredients
½ ounce arame seaweed (about ½ cup dry), soaked 20 minutes
2 cups shredded red cabbage
2 cups shredded green cabbage
2 cups shredded carrots
1 cucumber, deseeded and diced
1 small yellow pepper, diced
1 - 2 cups sprouts
Dressing
¼ cup white miso
¼ cup fresh lemon juice
2 Tablespoons soy sauce or tamari
1 Tablespoon honey or agave
1 Tablespoon grated fresh ginger
1 garlic clove, grated (optional)
Water, as needed
Instructions
Rinse and drain arame.
Toss arame and all vegetables into a large mixing bowl and toss to combine, breaking apart arame, as it tends to stick together.
In a small bowl whisk together Dressing ingredients until smooth, adding more water for taste or texture.
Toss Dressing onto salad and enjoy immediately. If serving later, keep Dressing separate. Enjoy!