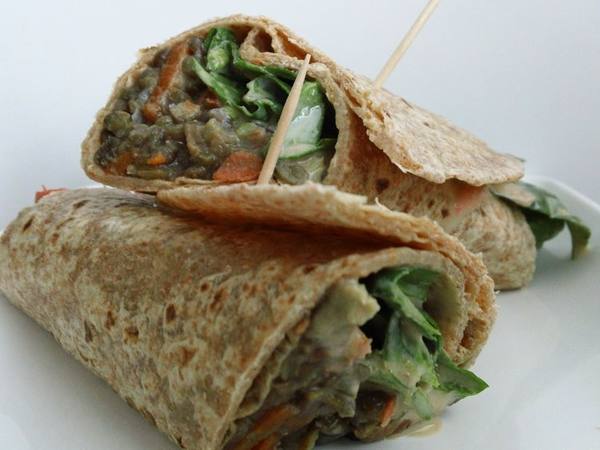 Lentil Wraps with Tahini Dressing
This thick lentil and vegetable mixture is a great way to keep your belly full and your body warm! Use in wraps, with rice or other grains.
Updated: Fri, 06/15/2018 - 7:37am
Ingredients
Tahini Dressing:
¼ cup tahini (sesame paste)
2 Tablespoons tamari
2 Tablespoons lemon juice
1 Tablespoon apple cider vinegar
1 teaspoon honey
Water, as needed for texture
2 cups French Green lentils
1 cup diced sweet potatoes
1 cup diced carrots
1 cup diced onion
½ cup sliced celery
½ cup chopped fresh tomatoes
5 cups water
1 teaspoon each coriander, cumin, mustard, and basil
Salt and pepper to taste
6 whole-wheat tortillas (or wraps of choice)
2 cups fresh chopped spinach
1 cup shredded carrots
Instructions
To make the Dressing: Whisk together tahini, tamari, lemon juice, vinegar, and honey until smooth, adding water as needed to create a smooth, creamy dressing. Set aside.
Add lentils, sweet potatoes, carrots, onions, celery, and tomatoes to a stockpot. Add water and bring to a boil. Cover, reduce heat, and simmer for 20 minutes, or until lentils are soft. Stir in herbs, salt and pepper to taste.
To make wraps, layer tortillas with about ¾ cup lentil mixture, and then top with spinach and carrots. Drizzle with dressing and roll. Serve and enjoy!