Seasoned Raw Flax Crackers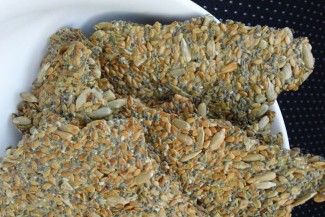 Seasoned Raw Flax Cracker recipe from Down to Earth Organic and Natural.
Ingredients
2 cups whole flax seeds
½ cup ground flax seeds
Pinch cayenne pepper
⅛ teaspoon salt
⅛ teaspoon pepper
½ cup nutritional yeast
1 clove garlic , crushed or pressed
1 carrot, finely grated
1 celery stock, finely grated
1 Tablespoon onion powder
Water
½ cup lemon juice
Zest of 1 lemon
Special Materials: Dehydrator, Teflex Sheets
Instructions
Add all ingredients except lemon juice and zest into a large bowl.
Stir and add enough water to just cover the surface. Let sit for 5-10 minutes. Mixture will thicken as it sits.
Add lemon juice and zest and mix well.
Spread mixture about ⅛"-¼" thick onto Teflex sheets and place in a dehydrator. There should be enough mixture for 3 trays.
Set dehydrator at 105°. Dehydrate on one side for 6 hours.
Removing the Teflex sheet, flip and dehydrate on the other side for another 6 hours, until crispy.
Break crackers apart by hand and enjoy!