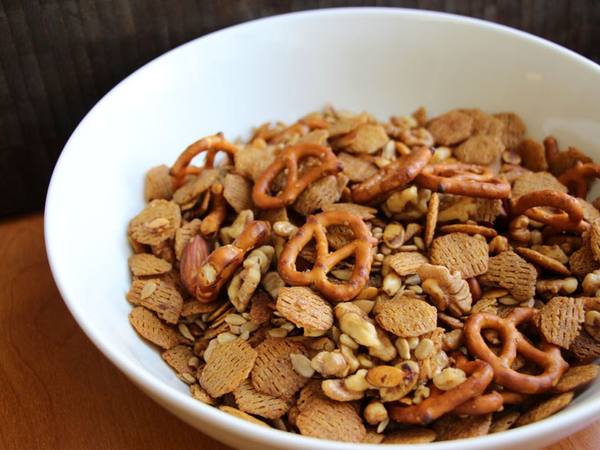 Vegan Party Mix
A healthier (and just as delicious!) version of this addicting snack will transform anytime of the day into a party!
Updated: Mon, 05/13/2019 - 8:51pm
Ingredients
3 cups Chex-like cereal, such as Barbara's Puffins or Nature's Path's Heritage Bites
1- 1½ cups sunflower seeds
1- 1½ cups regular or tamari pumpkin seeds
½ -1 cup mixed nuts of choice
¼ - ½ cup small pretzels or pretzel sticks
½ cup melted vegan butter or extra virgin olive oil
2 Tablespoons vegan Worcestershire sauce
1 Tablespoon soy sauce
1 Tablespoon maple syrup
1 teaspoon garlic powder + more if desired
1 teaspoon onion powder + more if desired
1 teaspoon paprika + more if desired
¼ - ½ teaspoon cayenne pepper + more if desired (optional)
¼ teaspoon liquid smoke (optional)
Instructions
Preheat oven to 250˚. Grease a large baking pan with vegan butter or olive oil.
Combine cereal, seeds, nuts, and pretzels into baking pan.
Whisk together remaining ingredients in a mixing bowl. Pour over cereal mixture. Toss with your hands to thoroughly coat.
Bake for 1 hour, stirring every 15 minutes. Allow mixture to cool. Serve in a large bowl and store any leftovers in an airtight container at room temperature for up to a week. If desired, you can also re-toast party mix at 400° for 7-10 minutes. Enjoy!