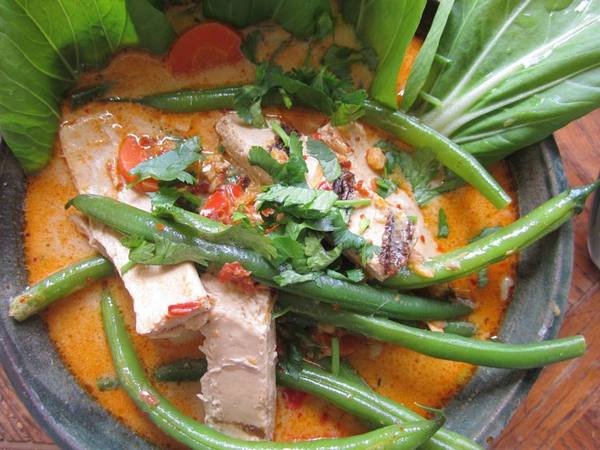 This hearty, spicy coconut soup is real favorite, some say it's the best soup in the world! Feel free to change out the vegetables and tofu to your liking.
Ingredients
Laksa Paste
8 small dried chilis, to taste
5 red shallots
1" finely chopped galangal or ginger
3 cloves of garlic
2 large lemon grass stalks, trimmed and chopped
2 teaspoons coriander seeds, or ground coriander
1 teaspoon paprika
Laksa Soup
Instructions
In a blender, make a paste of the chili, shallots, galangal/ginger, garlic, lemon grass, coriander seeds and paprika.
Heat the coconut oil in a pan. Fry the paste until fragrant.
Add the water/stock and bring to a boil.
Reduce heat to a simmer, add the coconut milk, carrots, green beans, bell pepper, chicken-free strips and salt.
Prepare the tofu noodles according to the packet directions.
Arrange bok choy leaves in each bowl. Add the noodles, distributing evenly in each bowl. Pour the laksa soup over the noodles, making sure each bowl gets vegetables and chicken-free strips.
Serve. Garnish with mung bean sprouts, mint leaves, lime wedges, cilantro or fried shallots. Enjoy!