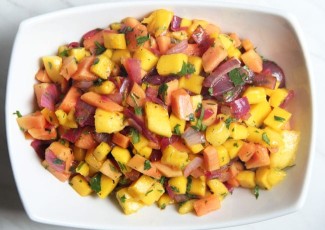 Enjoy with chips or on burritos. You could also substitute fresh mango!


Ingredients
1 jalapeño pepper, de-seeded and minced
1 Tablespoon olive oil
2 large ripe papayas, diced
¼ cup minced red onion
½ cup diced red bell pepper
1-2 garlic cloves, minced
½ cup minced fresh cilantro
Juice of 1 lime
½ teaspoon sea salt
Instructions
Add minced jalapeño to olive oil in a small bowl and soak for 1 hour.
Combine remaining ingredients in a large bowl. Stir in jalapeño and olive oil mixture. Chill in refrigerator for 1 hour before serving. Add more lime juice or salt to taste. Enjoy!