Down to Earth
Friday - January 2, 2015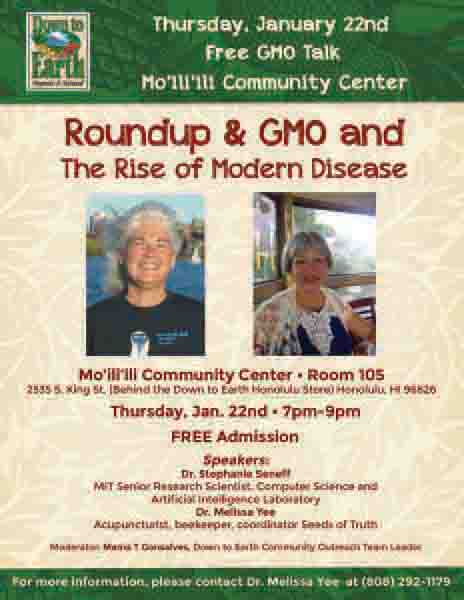 FREE Lecture!
"Roundup & GMOs and The Rise of Modern Disease," will be the topic of an insightful FREE lecture by Dr. Stephanie Seneff and Dr. Melissa Yee this month on Oahu and Maui. It will be co-sponsored by Down to Earth and Seeds of Truth. This lecture will be held on Oahu in the Moiliili Community Center Thursday January 22nd from 7-9 pm, and in Kahului at the Maui Waena Intermediate Cafeteria on Friday January 23rd from 7-9 pm.
Drs. Seneff and Yee will discuss how the use of Roundup herbicide matches the increased use of genetically modified crops, known as GMOs, and the startling rise in cases of diabetes, autism, obesity, and dementia. In her research, Dr. Seneff predicts that half of U.S. children will be diagnosed with autism by 2025. This talk is so relevant to our lives and the lives of our children—you don't want to miss it!
Dr. Seneff is an MIT Senior Research Scientist in the Computer Science and Artificial Intelligence Laboratory. Dr. Yee is an acupuncturist, beekeeper, and coordinator of Seeds of Truth. Down to Earth's Community Outreach Team Leader, Mama T, will moderate both lectures.
Source: