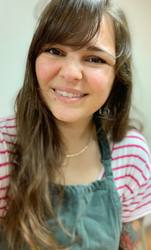 Community Outreach Assistant
As the Community Outreach Assistant, Amber is fortunate to be able to live her passions every day - helping others to make informed food choices and creating plant-based versions of local favorite dishes.
She loves bullet journaling, food illustration, practicing yoga and being outdoors. Her dream is to someday build a tiny house to share with her husband and vegan chihuahua mix, Shiro.
Recent Posts
This year, we're celebrating National Piña Colada Day with non-alcoholic recipes of this refreshing, summery drink.
Today, we celebrate World Oceans Day! But that doesn't mean that we should only think about caring for our precious oceans on today only. Aside from not offering plastic straws in our deli, we have a lot of ways you can shop ocean friendly at Down to Earth! Check out downtoearth.org/shop for these items and more.
Introducing Down to Earth Organic & Natural's first Keiki Chef Contest!
© 2020 Down to Earth Organic & Natural