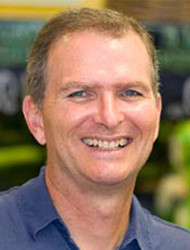 Chief Executive Officer
Mark Fergusson is Chief Organic Officer, and also Chief Executive & Chief Financial Officer of Down to Earth, one of Hawaii's leading natural & organic food store chains. The company has six locations: Honolulu, Kailua, Kaka'ako, Pearlridge, and Kapolei on Oahu; and Kahului on Maui.
Mark moved to Hawai'i in 1991 to join Down to Earth to take the opportunity to work for a company in harmony with his personal values, a strong commitment to organic food production, sustainability, and healthy living – including the promotion of a vegetarian diet.
Born and raised in Sydney Australia, Mark received a bachelor's degree in economics from Macquarie University and is a fellow of CPA Australia.
Mark is President and a director of HOFA (Hawai'i Organic Farming Association); is a founding member of Label It Hawaii, and speaks on the need for GMO labeling; serves on the advisory board of the Vegetarian Society of Hawai'i; and, has served as a volunteer mediator for the Mediation Center of the Pacific. He resides in Kailua with his wife Sandy. They have three children – two sons and a daughter.
Recent Posts
Updates from the team at Down to Earth Organic and Natural.
Aloha, to help our keep our Kupuna safe during this COVID-19 emergency, our stores will start offering Kupuna Hours at all locations. 
Our Hot Bar and Salad Bar are open with a twist! These items have been prepackaged for your safety. Other items also now packaged: Baked Goods, Pizzas and more. We'll also have a wide range of grab & go items available including Sushi. Be on the lookout for your favorites and maybe some new goodies!
© 2020 Down to Earth Organic & Natural