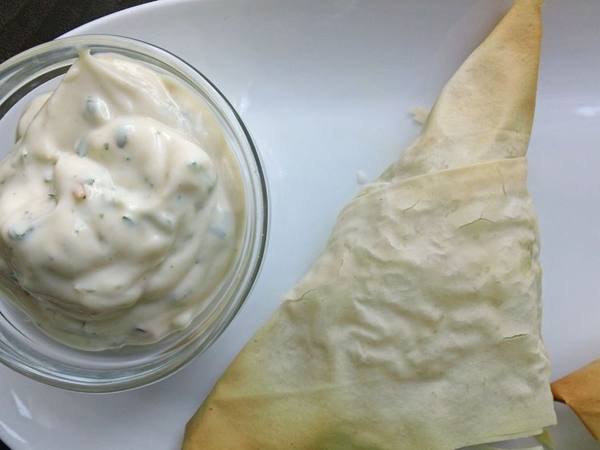 Samosas with Cilantro Yogurt
Samosas are a bit labor intensive but they are amazingly delicious and so fun to make- it's worth it!
Updated: Mon, 05/13/2019 - 8:51pm
Ingredients
4 cups chopped sweet potatoes or yams
2-4 Tablespoons coconut milk
2 Tablespoons coconut oil or ghee + more for brushing
½ cup minced red onion
1 cup chopped carrots
1 cup frozen green peas
1 cup fresh or frozen corn
1 teaspoon each cumin, coriander, garam masala, and salt
½ teaspoon each black pepper and red chili flakes
Half (1-lb) package phyllo dough, thawed according to directions
Cilantro Yogurt
2 cups unsweetened yogurt of choice
1 cup fresh minced cilantro
1-2 Tablespoons fresh lime juice
1-2 teaspoons lime zest
1 teaspoon each salt, coriander, and black pepper
Instructions
Add yams to a saucepan and cover with water. Bring to a boil, then lower heat slightly and cook until soft, about 10 minutes. Drain. Turn out into a bowl and mash slightly with coconut milk, leaving a few chunks. Set aside.
In a skillet, heat coconut oil over medium low heat. Add onions and cook until just browned. Add carrots, peas, corn and spices. Stir to coat. Add onion mixture to sweet potato mixture and stir to combine. Let rest until cool enough to handle.
Preheat oven to 350º and line a baking sheet with parchment paper.
Lay phyllo dough onto a smooth, dry surface. Cut dough into 5-inch strips. Cover remaining dough with a damp towel. Pour ½ cup liquid coconut oil into a small dish and set aside.
Remove two layers of phyllo from each strip. Brush dough strip generously with oil, then add 2-3 Tablespoons sweet potato mixture onto one end. Fold over itself into a triangle shape (like folding a flag), tucking in edges and sealing with oil. Place onto prepared baking sheet. Continue with remaining filling and dough. Brush each piece with more oil. Bake for 25 minutes. Remove from oven let cool.
To make Cilantro Yogurt: Whisk all ingredients together in a small bowl. Let stand for a few minute for flavors to meld. Serve with Samosas and everything else. Enjoy!