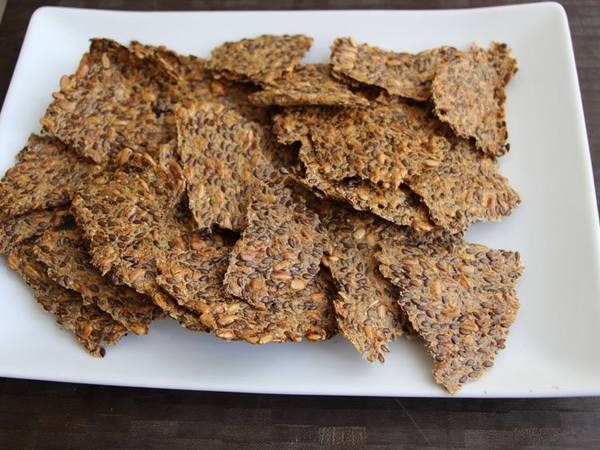 Flax Crackers
Heart-healthy flaxseeds are blended with chia and sunflower seeds for a gluten-free snack, perfect for picnics. You can use a dehydrator or oven for these crackers.
Yield:
20-30 Small Crackers
Updated: Sat, 06/16/2018 - 7:14am
Ingredients
1 cup whole flaxseeds
¾ cup ground flaxseeds
½ cup chia seeds
½ cup sunflower seeds
1 teaspoon sea salt
Instructions
In a large bowl, toss together whole and ground flaxseeds, chia seeds, sunflower seeds and salt. Add 2 cups filtered water and stir to combine. Soak for 15 minutes. Drain off excess liquid, if any.
To dehydrate: pour flax mixture onto two lined trays. Dehydrate at 115º for four hours. Flip, score into squares, and dehydrate for 2-4 hours more, until crispy.
To bake: line two rimmed baking sheets with parchment paper, ensuring parchment covers edges of pan. Pour flax mixture onto baking sheet and spread evenly with a spatula. Mixture should only be a few millimeters thick.
Bake at 350º for one hour. Flip entire pan of crackers, peel off parchment paper (it should come off easily), then bake half hour more, or until brown and crispy.
Break into 20-30 pieces after cooling. Enjoy with hummus or other dips, or just solo!