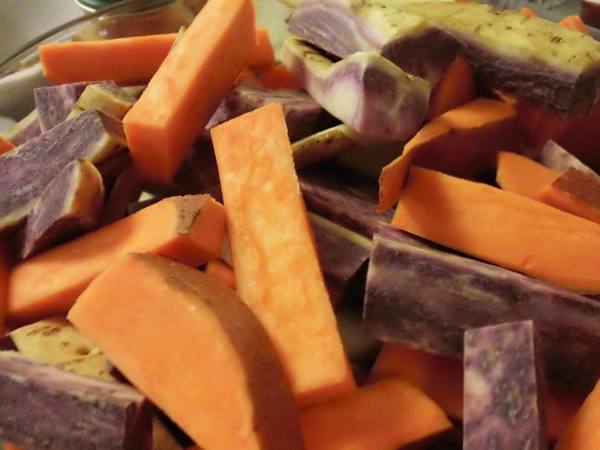 Spicy Cajun Fries
Spicy Cajun Fries Recipe from Down to Earth Organic and Natural
Updated: Tue, 04/30/2019 - 11:14pm
Ingredients:
Olive oil + 3 Tablespoons reserved
1 medium russet potato
1 medium garnet yam
1 medium Okinawa sweet potato
½ teaspoon cayenne
½ teaspoon thyme
¾ teaspoon smoked paprika
½ teaspoon cumin
¾ teaspoon garlic powder
½ teaspoon onion powder
Salt and pepper to taste
Nutritional yeast
Instructions:
Preheat oven to 425°. Lightly coat a baking sheet with oil.
Cut all potatoes into ¼'' strips. Set aside.
In a bowl combine cayenne, thyme, paprika, cumin, garlic powder and onion powder.
Add olive oil and whisk until combined.
Pour spice mixture into a large re-sealable plastic bag.
Place potatoes into bag and coat with spice mixture.
Arrange potatoes in a single layer on baking sheet. Sprinkle with salt and pepper
Bake for 12 minutes. Flip the fries over and cook for another 8 minutes.
Sprinkle with nutritional yeast and bake for another 4 minutes.
Remove from oven and enjoy!