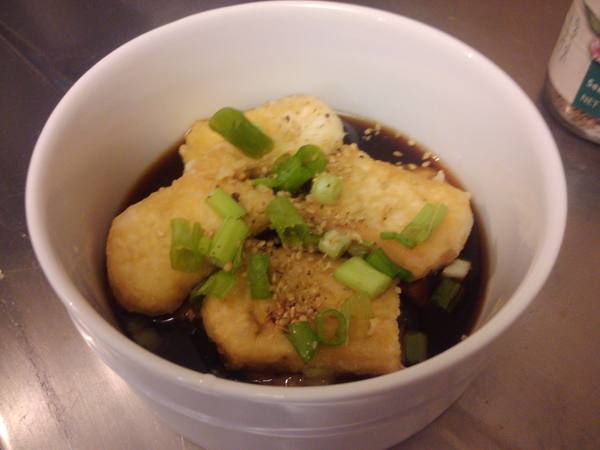 Agedashi Tofu
Dashi serves as the basis for many Japanese dishes. Substitute traditional bonito flakes for iron-rich kombu. This popular dish is one of the best ways to enjoy tofu – simple, warm, and delicious.
Updated: Mon, 04/02/2018 - 10:00pm
Ingredients
Vegetarian Dashi
¼ cup dried shittake mushrooms
2½ cups water
5" piece of dried kombu
Tofu
1 (10-ounce) block medium tofu, drained well
4 Tablespoons soy sauce or tamari
3 Tablespoons mirin
¾ Tablespoon brown sugar
½ cup corn starch
¼ cup safflower oil + more if needed
¼ cup chopped green onions
2 Tablespoons fresh grated ginger
1 Tablespoon sesame seeds or gomasio
Instructions
Rehydrate mushrooms according to package directions. Coarsely chop mushrooms, combine them with 2 cups water in a medium saucepan and bring to a boil. Reduce heat and simmer for about 30 minutes.
Add remaining ½ cup water and kombu. Bring to a boil. Strain mixture into a large bowl, reserving mushrooms to use in other dishes and discarding kombu.
Cut tofu into ¼" thick slabs, then slice in half width-wise. Place tofu on paper towels to remove any excess water.
Combine prepared Vegetarian Dashi, soy sauce, mirin, and brown sugar in a medium saucepan. Bring to a gentle simmer.
Pour corn starch into a shallow bowl. Coat tofu slabs with corn starch.
Heat safflower oil in a large skillet over medium-high heat. Fry tofu until golden, turning once. Work in batches if necessary. Add more oil if needed. Tofu should be immersed one-fourth to halfway in oil. Transfer to paper towels to absorb excess oil.
Transfer tofu to a serving bowl and add warm sauce. Garnish with green onions, ginger, and sesame seeds. Serve immediately and enjoy!