Whole Grain Bowl w/ Pesto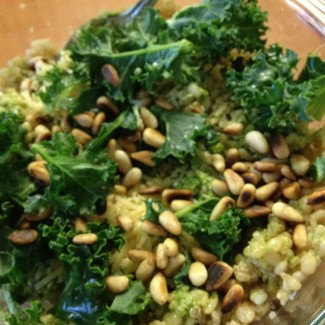 Easy and nutritious: hearty whole grains are served with a colorful vegetable mix and flavorful pesto.
Ingredients
2 cups cooked whole grains such as wheat berries, spelt berries, pearled barley, quinoa, brown rice, etc.
2 cups vegetables of choice, such as: shredded carrots, sliced onions, shredded cabbage, torn kale, sliced mushrooms, sliced cucumbers
¼ cup pesto
¼ cup nuts of choice
Instructions
To build the bowl, layer grains and vegetables together in a large serving bowl.
Add pesto and toss well. Garnish with nuts. Mixture can be stored in the refrigerated for up to a week. To keep nuts from becoming soggy, keep separate until ready to serve. Enjoy!