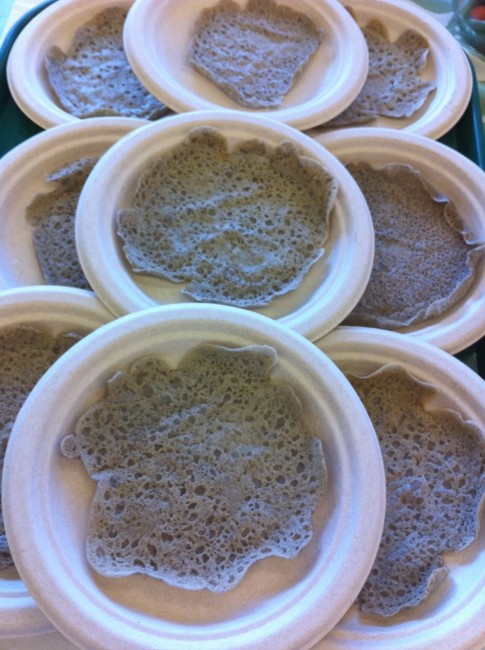 This bread is a traditional part of any Ethiopian meal. Make it with 2 cups Teff flour, in place of the other flours, to make it completely traditional.
Yield
7 - 10 individual breads
Ingredients
1 cup all-purpose flour
½ cup sorghum flour
½ cup buckwheat flour
1 teaspoon salt
1 teaspoon rapid-rise active yeast
2½-3 cups warm water + more if needed
1 Tablespoon olive oil or vegetable oil
Plain yogurt or cottage cheese
Instructions
Sift all dry ingredients into a large bowl. Add 2½ cups warm water and stir well. Cover bowl and set aside in a warm place for 6-12 hours. After fermentation has taken place batter should be bubbly and increased in volume.
Grease a large skillet lightly with oil. Heat pan to medium-high heat.
Give batter a gentle stir. Batter should be very runny. Add about ¼ cup warm water if mixture is too thick.
Ladle ⅓ cup of batter into the pan. Pick the pan up and tilt it in a circular motion to spread the batter as thinly as possible in the pan. Cook for about 3 minutes. Flip and cook for another minute. Set aside and continue until all batter is used.
Serve with all your favorite Ethiopian recipes. Garnish with plain yogurt or cottage cheese. Enjoy!