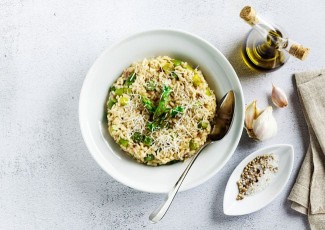 Coconut Cilantro Risotto recipe from Down to Earth Organic and Natural.
Ingredients
2 Tablespoons olive oil
1 Tablespoon chopped garlic
½ cup chopped onion
1 cup arborio rice
2 Tablespoons lemon juice
3 cups vegetable stock or water
1½ cups coconut milk
1 Tablespoon nutritional yeast
½ Tablespoon tahini
Pinch of cayenne
Pinch of cumin
Seeds from 2 cardamom pods
2 Tablespoons chopped cilantro
1 teaspoon black pepper
Sea salt to taste
handful of microgreens to garnish (optional)
Instructions
Heat oil in a large frying pan over medium heat. Add garlic and onion. Cook for 3 minutes, stirring constantly.
Add rice and cook for 2 minutes, stirring constantly.
Reduce heat slightly and add lemon juice.
Slowly add vegetable stock. Stir constantly for about 20 minutes, or until all liquid is absorbed.
Stir in remaining ingredients until well combined. Serve and enjoy!