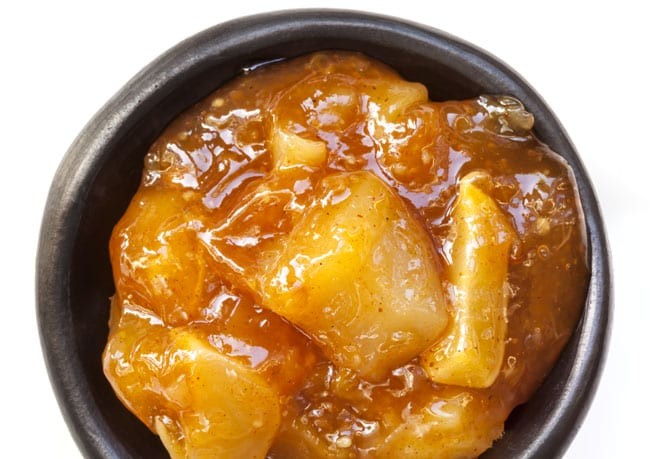 Warming spices and sweet mango are simmered together for a classic accompaniment to Indian meals - or just your morning toast!
Ingredients
2 Tablespoons olive oil
¼ cup finely minced onion
2 Tablespoons fresh, minced ginger
1 Tablespoon fresh, minced turmeric
2-4 cloves garlic, minced
1 jalapeño pepper, minced (optional, but delicious)
3 cups chopped mango (including juice and pulp)
2 Tablespoons apple cider vinegar
1 Tablespoon garam masala
1 teaspoon ground cumin
Salt to taste
Instructions
Heat olive oil in a large saucepan over medium-high heat. Add onions, ginger, turmeric, garlic, and jalapeño. Cook until onions are just soft, about five minutes.
Add mango, vinegar, spices, and salt, stirring to combine. Bring mixture to a boil, lower heat to lowest setting, and let simmer for 45 minutes to an hour, stirring occasionally to keep from sticking. Mixture will boil down to about half original volume.
Let cool and serve alongside rice, dal, and samosas. Enjoy!