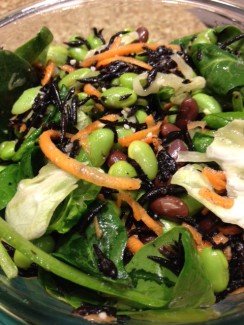 Sweet edamame (young soybeans) pair deliciously with rich hijiki seaweed. Recipe adapted from Super Natural Cooking by Heidi Swanson (www.101cookbooks.com).
Ingredients
¼ cup hijiki seaweed
1 (12-ounce) package shelled frozen edamame
1 cup shredded carrots
4 cups fresh spinach
2 cups shredded green cabbage
Creamy Miso Dressing
¼ cup brown rice vinegar
2 Tablespoons white miso
1 clove garlic, finely minced (optional)
1 Tablespoon honey
½ cup extra-virgin olive oil
A few pinches sea salt
Instructions
Soak hijiki in hot water for 20 minutes. Drain and set aside
Add edamame to a large pot of boiling salted water and cook for 3 minutes. Rinse in cool water and drain well.
In a large bowl toss together soaked hijiki, edamame, carrots, spinach and cabbage. Set aside.
In a small bowl whisk together the Creamy Miso Dressing ingredients, ensuring miso is dissolved.
Pour dressing onto salad and toss to distribute evenly. Serve immediately. Keep dressing separate if serving later. Enjoy!