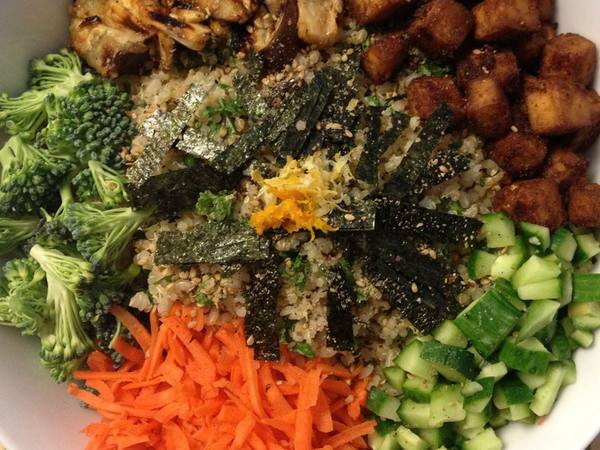 Sushi Salad
This incredible salad has a lot of components but is well worth the effort!
Updated: Mon, 05/13/2019 - 8:51pm
Ingredients
Sushi Rice
2 cups water
½ cup brown rice
½ cup quinoa
3 Tablespoons rice vinegar
1 Tablespoon mirin
2 Tablespoons sugar
½ teaspoon salt
½ cup minced dark leafy greens like Swiss chard, kale, or spinach
Baked Tofu
1 (10-14 ounce) package extra firm tofu, drained and pressed dry
¼ cup soy sauce or tamari
¼ cup toasted sesame oil
½ cup nutritional yeast
Black pepper to taste
Charred Eggplant
1 medium eggplant, stem removed and sliced lengthwise into thin strips
2 Tablespoons white miso paste
1-2 Tablespoons sugar
¼ cup water
Toppings
1 broccoli head, cut into 1" pieces
2-3 cucumbers, seeded and diced
2-3 carrots, shredded
8 sheets nori, cut into 2" x 2" blocks
Dressing
Zest and juice of 1 lemon
Zest and juice of 1 orange
Garnish
Sesame seeds or furikake, to taste
Instructions
Preheat oven to 375°. Line a baking sheet with parchment paper.
To cook Sushi Rice: Combine water, rice and quinoa in a saucepan. Bring to a boil. Lower heat, cover and let simmer for 12-15 minutes or until water is absorbed. After rice/quinoa mixture has cooked, transfer to a large mixing bowl. Set aside to cool.
Combine rice vinegar, mirin, sugar, and salt in a small pot over medium heat. Stir until sugar has dissolved. Pour vinegar mixture onto rice/quinoa and fold in gently until well combined. Stir in minced greens and set aside.
Meanwhile, prepare Baked Tofu: Cut tofu into 1" cubes and pat dry with a paper towel to absorb any extra moisture. In a large bowl, whisk together soy sauce, sesame oil, nutritional yeast, red pepper flakes, and black pepper. Add tofu cubes to sauce and toss gently to coat. Transfer tofu to prepared baking sheet - be sure to space out tofu evenly. Reserve remaining sauce. Bake for 15 minutes. Remove from oven. Drizzle with reserved sauce and stir tofu to coat. Bake 15 minutes more. Transfer baked tofu to a plate, reserving the parchment lined baking sheet and saving any leftover sauce.
Switch oven setting to broil for the Charred Eggplant.
To prepare Charred Eggplant: Layer eggplant slices on prepared baking sheet. Whisk together miso, sugar and sesame oil in a small bowl. Brush miso mixture onto eggplant slices. Broil for 2-3 minutes. Remove from oven, flip eggplant, brush with miso mixture and broil for another 2-3 minutes. Reserve any leftover sauce.
Divide Sushi Rice evenly between 4-6 bowls. Divide Baked Tofu, Charred Eggplant, and Toppings on top of rice. Whisk together remaining Baked Tofu and Charred Eggplant sauces with Dressing ingredients. Drizzle Dressing over Sushi Salads along with a sprinkle of sesame seeds or furikake. Serve and enjoy!