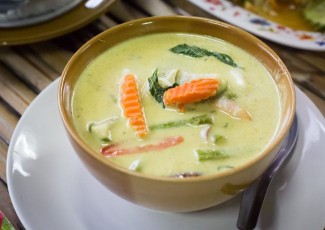 Eggplant is often paired with the milder green curry in Thai dishes. This recipe features a premade curry paste for easier preparation. Add in chickpeas for added heartiness.
Ingredients
1 (13.5-ounce) can full-fat coconut milk, refrigerated overnight
4-6 Tablespoons green curry paste
⅔ cup diced Asian eggplant
⅔ cup diced red bell pepper
⅔ cup diced zucchini
⅔ cup sliced carrots
½ cup diced onion
½ cup vegetable broth
3 Tablespoons fresh lime juice
1 Tablespoon soy sauce
1 Tablespoon coconut sugar
1 (16-ounce) can of chickpeas, rinsed and dried
½ cup Thai basil or cilantro, sliced thinly
Instructions
Open the can of coconut milk without shaking it. Scoop out the thick coconut cream from the top and add to a large skillet. Warm on medium-high heat and add curry paste, stirring constantly. Let mixture simmer for a few minutes.
Add eggplant, red pepper, zucchini, carrots, and onion. Stir until vegetables are coated in coconut-curry mixture, and then add remaining coconut milk. Simmer covered until vegetables are soft, about 10-15 minutes.
In a small bowl, whisk vegetable broth, lime juice, soy sauce, and coconut sugar until sugar has dissolved.
When vegetables are finished cooking, add soy sauce mixture into skillet and stir to combine.
Stir in chickpeas.
Cook uncovered for 5 more minutes.
Stir in Thai basil or cilantro just before serving. Serve curry alongside rice or rice noodles. Enjoy!