Indonesian Yellow Rice (Nasi Kuning)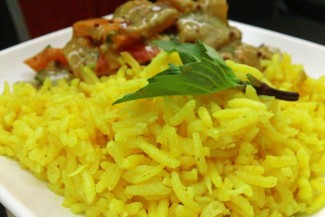 This classic Indonesian rice dish is scented with incredibly flavorful herbs like lemongrass, ginger and turmeric.
Ingredients
2 cups white jasmine rice
2 stalks lemongrass
2 Tablespoons shredded coconut
1 Tablespoon fresh ground turmeric
1 Tablespoon fresh grated ginger
1 teaspoon sea salt
1 teaspoon dried turmeric
2 cups vegetable broth
1 cup coconut milk
Instructions
Rinse rice until all starch is removed and add to saucepan.
Trim root ends of lemongrass stalks, and chop off the dry top sections. Mash root ends with the handle of a knife to break apart. Peel away layers of the lemongrass and tie into knots. Add to rice.
Add all remaining ingredients to rice and stir to combine. Bring mixture to a boil, cover, reduce heat, and simmer for 15-20 minutes. Stir, and aside to cool.
When mostly cooled, divide among serving dishes and garnish with more cilantro. Serve with tofu, greens, or Green Banana Curry.