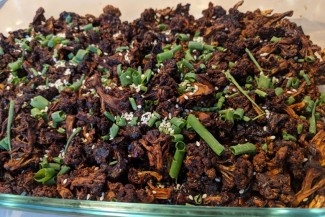 This recipe's sweet and spicy chili sauce is absolutely irresistible especially paired with incredibly healthy and versatile cauliflower. While cauliflower is low on calories, it's very nutrient dense and the best part, absorbs any flavor you put on it. You can feel good about getting seconds and thirds of this yummy dish!
Ingredients
¼ cup low sodium soy sauce, liquid aminos or coconut aminos
¼ cup dark brown sugar 
1 Tablespoon gochujang or sriracha sauce
1 Tablespoon miso paste
1 Tablespoon sesame oil or toasted sesame oil
1 Tablespoon rice wine vinegar 
1-3 teaspoons grated ginger
1-3 teaspoons grated garlic
2 heads cauliflower, cut into bite sized florets
Sesame seeds, for garnish
Sliced green onions, for garnish
Sliced chili peppers, for garnish (optional)
 
Instructions
Preheat oven to 450°. Line 2 baking sheets with parchment paper. 
In a large bowl, whisk together all ingredients except for cauliflower and garnishes, until smooth. The sauce should be thick but pourable. 
Add cauliflower florets to sauce – you may need to do this in 2 batches – and toss to cover. Use your hands to rub in the sauce into all the nooks and crannies of the florets. You should still see some white on the cauliflower florets. 
Add covered florets to your prepared baking sheets. They need to be spread out in an even layer with no overlapping pieces. 
Bake for 20-25 minutes. Remove from oven and stir pieces, flipping them as much as possible. Return to oven to bake for another 20-25 minutes. For a little added crunch, broil florets for 5 minutes. 
Remove from oven to let cool. Garnish with sesame seeds, green onions, and chili peppers. This dish can be kept in the refrigerator for 3-5 days or in the freezer for up to a month. Serve and enjoy!