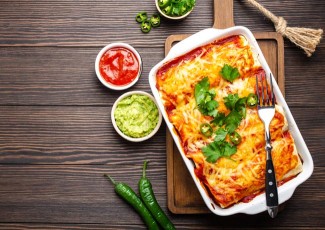 Potato Enchiladas recipe from Down to Earth Organic and Natural.
Ingredients
2 large potatoes, chopped into ¼'' pieces
2 Tablespoons olive oil
1 onion, coarsely chopped
1 bell pepper, coarsely chopped
1 green chile, de-seeded and minced
2 cloves garlic, minced
2 teaspoons ground cumin
2 teaspoons ground coriander
1 (15-ounce) can corn, drained and rinsed
1 (15-ounce) can black beans, drained and rinsed
Juice of 1 lemon
1 cup salsa
1½ cups shredded cheddar cheese
Salt and pepper to taste
6" corn tortillas
Instructions
Preheat oven to 350°.
Place potatoes in water and boil until just tender.
Heat oil over medium heat in frying pan. Add the onions, bell pepper and chilies. Sauté until the onions begin to brown. Add the garlic, cumin and coriander, and sauté 2 minutes.
Stir in the corn, beans, potatoes, lemon juice, ½ cup salsa and ½ cup cheese. Season with salt and pepper.
Heat a frying pan over medium-high heat. Place corn tortillas in pan and heat both sides for about 10 seconds.
Pour about ½ cup of salsa in the bottom of a baking dish.
Fill each tortilla with a strip of filling and roll.
Place the tortillas in the baking dish and sprinkle with remaining cheese.
Cover with foil and bake for about 15 minutes or until cheese melts.
Serve with guacamole and sour cream. Enjoy!