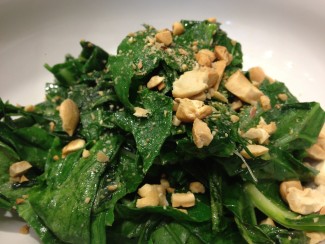 Collard greens are the vegetable that rates the highest on the ANDI Scale, and this is a simple and delicious way to season this slightly bitter and hearty greens.
Ingredients
1 bunch collard greens, stems removed
2 Tablespoons white miso
2 Tablespoons brewed Pu-erh tea or black tea
1 Tablespoon agave
1 teaspoon toasted sesame oil
Slices of lemon, for garnish
Handful ground, toasted cashews
Instructions
Roll collard into a cylinder. Then slice collard greens very thinly. Fluff so that leaves are not stuck together. Set aside.
In a small bowl whisk together miso, tea, and agave until smooth. Set aside.
In a large skillet or wok, heat sesame oil over medium-low heat. Add sliced collards and cook until just wilted, about five minutes, stirring continuously. Turn off heat, drizzle with miso glaze, and stir to coat.
Toss with toasted cashews. Serve with lemon slices and enjoy!