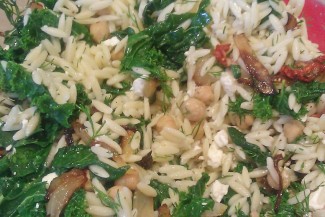 Quick cooking orzo combines perfectly with filing chickpeas and healthful vegetables for an easy lunch or dinner.
Ingredients
2 cups uncooked orzo pasta

4 cups curly kale, finely chopped
¼ cup olive oil, divided
1 cup thinly sliced onions
2 Tablespoons fresh lemon juice
1 Tablespoon apple cider vinegar
Sea salt and black pepper to taste

1 cup cooked chickpeas (garbanzos)
¼ cup chopped sun-dried tomatoes
½ cup chopped fresh dill
½ cup crumbled feta cheese (optional)
Instructions
Cook orzo according to pacakage directions. When the orzo is finished cooking, add the kale to the pot and stir to quickly blanch the kale. Pour into a colander and rinse with cold water, stirring gently to remove all the heat. Leave in colander to drain.
In a large skillet, add 2 Tablespoons olive oil and cook the onions over medium-low heat until browned. Turn off heat, and let onions cool in pan.
Meanwhile, whisk together remaining 2 Tablespoons olive oil, lemon juice, vinegar, salt and pepper. Set aside.
In a large bowl combine orzo/kale mixture, onions, sun-dried tomatoes, dill and feta (if using). Drizzle with dressing and toss to coat. Enjoy!