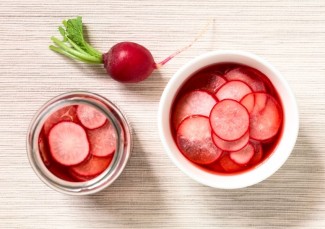 Quick-Pickled Radish recipe from Down to Earth Organic and Natural.
Ingredients
1 large watermelon radish or 1 bundle small breakfast radishes, sliced very thin
vinegar of choice (sherry, red wine, rice, etc)
pinch of sugar (or sweetener of choice)
salt (to taste)
Instructions
Combine all ingredients in a bowl. Toss to coat all sides of the radish slices. Seal in a tupperware in refrigerator for at least one hour. Can keep up to a week.