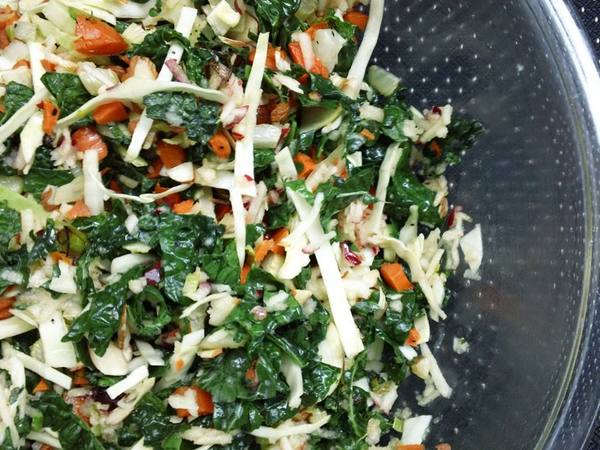 Kale & Apple Salad
The roasted root veggies and light, leafy greens make a balanced wintertime meal.
Updated: Sun, 05/27/2018 - 7:59am
Ingredients
2 cups finely diced carrots
2 cups finely diced celery or fennel
1 cup sliced leeks
2 Tablespoons olive oil
Salt and pepper to taste
6 cups lacinato kale, de-stemmed and sliced thinly
2 Tablespoons lemon juice
1 Tablespoon olive oil
1 Tablespoon apple cider vinegar
2 cups shredded apple
1 cup shredded green cabbage
1 cup sliced almonds
Instructions
In a large bowl toss together carrots, celery/fennel, leeks, olive oil, salt and pepper. Pour onto a lined, rimmed baking sheet. Heat oven to 400º and roast for 15-20 minutes, or until vegetables are soft. Set aside to cool.
In a very large bowl toss kale with 1 Tablespoon lemon juice. Using your hands, massage until bright green and wilted.
Add apple, cabbage, and almonds to kale. Drizzle with remaining Tablespoon lemon juice, olive oil, and vinegar, and toss to combine. Toss in roasted vegetables and stir. Serve immediately, or store leftovers in an airtight container for a few days. Enjoy!