Kale Salad with Lemon Vinaigrette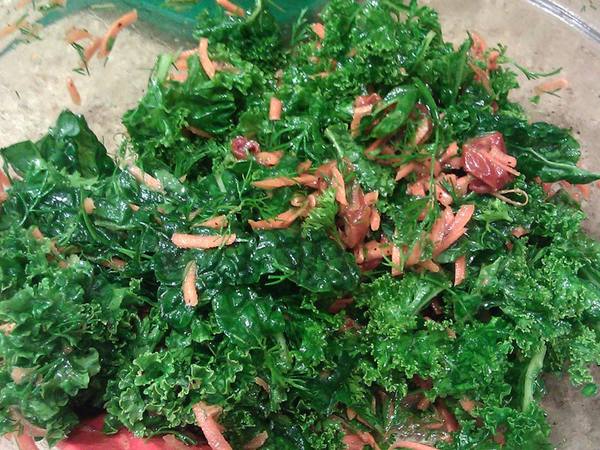 This is an easy way to add greens into your everyday meals: use this salad for wraps, sandwiches, or noodles, or simply serve with some tofu and brown rice!
Ingredients
Lemon Vinaigrette
2 Tablespoons olive oil
2 Tablespoons fresh lemon juice
1 Tablespoons cider vinegar
2 Tablespoons maple syrup
Salt and black pepper, to taste
½ cup sundried tomatoes, chopped
1 cup shredded carrots
½ cup fresh herbs, chopped
4 cups kale, chopped
2 cups purple cabbage, chopped
¼ cup nutritional yeast
Instructions
In large bowl, mix Lemon Vinaigrette ingredients.
Toss in the sundried tomatoes, carrots, and herbs. Let sit for a few minutes for flavors to meld.
In another large bowl, "massage" chopped kale by squeezing it in your hands until it begins to wilt. Drain off any excess juice.
Pour dressing and soaked vegetables onto the kale. Toss to combine. Serve immediately or keep in the refrigerator for up to three days. Enjoy!