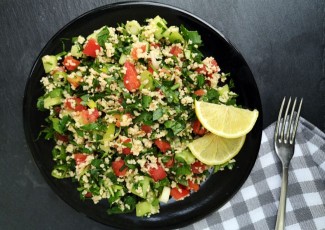 Tabouli Salad Recipe from Down to Earth Organic and Natural
Ingredients
Bulgur
2 cups bulgur
3 cups water
Salad:
1 cup diced cucumber
¾ cup diced tomato
½ cup diced red bell pepper
¼ cup diced green onions
¼ cup chopped fresh mint
3 Tablespoons coarsely chopped parsley
Dressing:
¼ cup lemon juice
2 Tablespoons olive oil
2 teaspoons red wine vinegar
1 teaspoon agave nectar
Salt and pepper to taste
Instructions
Cook Bulgur: Place bulgur and water in a saucepan. Bring to a boil. Reduce heat, cover with a lid, and cook for 15 minutes or until water is absorbed. Remove from heat, fluff with fork and let cool.
In a large bowl combine cooled bulgur and Salad ingredients.
In a small bowl combine Dressing ingredients. Pour over salad and toss well. Chill for at least 1 hour for best flavor. Enjoy!