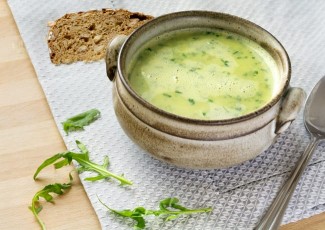 This soup is great for detoxing! It's comforting, delicious, healthy and hearty. Feel free to add or skip green vegetables to suit your taste, it'll taste wonderful no matter what.
Ingredients
1 teaspoon coconut oil
1 onion, rough chopped
½ head of garlic, rough chopped
½" ginger, rough chopped
8 cups vegetable stock or water
1 cup cauliflower, optional
1 cup brocolli
2 small leeks
½ bunch kale
4 cups spinach, fresh or frozen
1 can of coconut milk
¼ cup of nutritional yeast, optional
Salt and pepper to taste
Juice of half a lemon
Instructions
Fry the onion in coconut oil, then add the ginger and garlic and cook until soft.
Add the water or vegetable stock, cauliflower, broccoli and leeks. Bring to the boil, then turn down and simmer for 10 minutes, or until the vegetables are tender.
Add the kale and spinach and wilt for 2-4 minutes.
Add the coconut milk, nutritional yeast, salt and pepper to taste.
Blend.
Serve with a squeeze of fresh lemon and anything else you fancy! Enjoy!