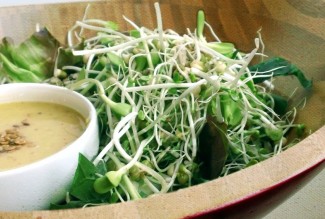 Sprouts and microgreens are the epitome of living foods. They are easy to make at home and fun to watch grow. Try this delicious salad that can be eaten on its own or added to a sandwich or wrap.
Ingredients
Sprouts
6 cups various sprouts or microgreens such as clover, sunflower, broccoli, alfalfa, and/or mung bean
Dressing
1 tomato, chopped
1 Tablespoon ume plum vinegar
1 teaspoon garlic flakes
¼ cup olive oil
Juice of 1 lemon
½ cup nutritional yeast
¼ cup raw walnuts
Instructions
Wash and dry sprouts or microgreens in a salad spinner. Place in a large bowl.
Place Dressing ingredients in a blender and blend until smooth and creamy.
Pour Dressing over sprouts – tossing gently to evenly coat sprouts. Serve and enjoy!