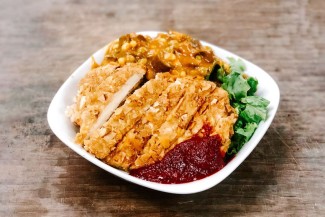 This plant-based take on a local favorite is one of our favorites!
Ingredients
Katsu Sauce
⅓ cup tomato paste
¼ cup tamari or liquid aminos
¼ cup date sugar, coconut nectar or honey
Cayenne pepper to taste
Tofu Katsu
1 block extra firm tofu, drained and pressed dry
¼ cup soy sauce or tamari
Flour Mixture
1 cup whole wheat flour (or sorghum flour for gluten-free)
1 Tablespoon garlic salt
Flax Seed Slurry
3 Tablespoons ground flax seeds
6 Tablespoons water
Breading Mixture
1 cup panko breadcrumbs (or chickpea crumbs/crushed chips for gluten-free)
¼ cup ground flax seeds (optional)
Frying Oil
¼ cup olive oil + more if needed
Instructions
Whisk all ingredients for Katsu Sauce in a medium bowl. Cover and refrigerate for at least 1 hour before using. Can be refrigerated in an airtight container for about a week.
Prepare Tofu Katsu: Cut tofu into pieces of desired size. Set aside.
Mix flour and garlic salt in a small bowl.
Prepare Flax Seed Slurry: Whisk together ground flax seeds and warm water in a small bowl and let stand for a few minutes.
Combine crumbs and flax meal in a small bowl.
To make breading easier, line up all mixing bowls in the following order: liquid aminos, Flour Mixture, Flax Seed Slurry and then Breading Mixture.
Dip one tofu block at a time into soy sauce mixture. Roll each block in flour mixture. Dip in flax seed slurry. Lastly, roll in breading mixture and place on empty baking sheet. Repeat until all tofu blocks are breaded.
Heat oil in a deep skillet over medium heat.
Carefully place tofu in cooking oil. Increase heat to medium-high. Shallow fry each side for 3-5 minutes, or until breading is golden brown. Work in batches, being careful not to overcrowd the tofu.
After cooking each batch, place on a large plate lined with paper towels.
Gently dab each katsu with a paper towel to remove excess oil.
Arrange on serving plates and drizzle with Katsu Sauce. Serve with a green salad, brown rice and Japanese style curry stew. Enjoy!