Vegan Coconut Quinoa Risotto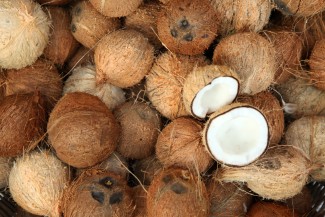 Superfood quinoa is paired with sweet Kabocha pumpkin in this healthier and easier version of risotto.
Ingredients
1 cup quinoa
1 cup vegetable broth
1 (fifteen-ounce) can coconut milk
½ cup mirin
2 cups chopped Kabocha pumpkin
1 Tablespoon olive oil
½ cup sliced onions
2 Tablespoons dried garlic flakes
2 Tablespoons vegan margarine
½ cup unsweetened soymilk
1 cup shelled peas
½ teaspoon each dried sage and dried basil
Salt and pepper to taste
Instructions
Stir quinoa in a medium saucepan over medium heat for a few minutes to toast grains.
Stir in vegetable broth, coconut milk, mirin, and pumpkin. Raise heat to high and bring mixture to a boil. Lower heat and let simmer for 40 minutes or until most liquid is absorbed by quinoa- it will be a bit soupy. Remove from heat.
In a large skillet heat olive oil over medium heat. Add onions and sauté for five minutes or until starting to brown. Add quinoa mixture, garlic flakes, butter, and soymilk. Sauté for a few minutes or until quinoa absorbs liquid.
Stir peas, Parmesan, and herbs and mix well. Season with salt and pepper if you like.
Transfer to serving platter and garnish with extra dried or fresh herbs in the center. Serve and enjoy!