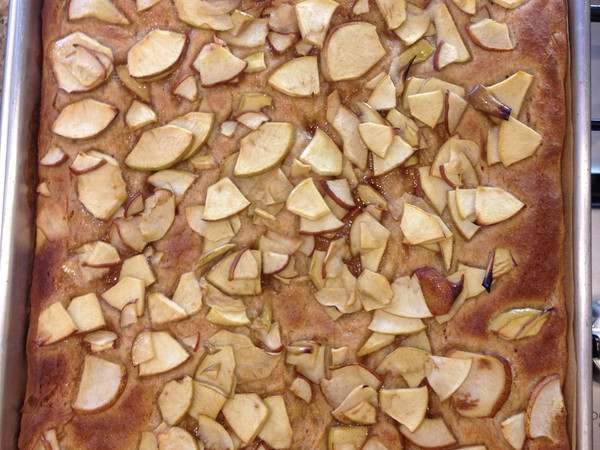 Fruit Focaccia
Serve this sweet bread for a fabulous brunch or afternoon snack. Be creative and vary the fruit selection depending on the season!
Updated: Tue, 04/03/2018 - 7:52am
Ingredients
1¼ cups warm water (about 140º)
2 teaspoons active dry yeast
1 Tablespoon raw sugar
¼ cup extra virgin olive oil
½ cup honey + ½ cup extra
3 cups spelt flour
2 cups all-purpose flour, plus extra
1 teaspoon sea salt
3 cups sliced fresh fruit (pears, apples, plums, etc.)
Instructions
Add water, yeast and sugar to a large bowl. Stir gently and let yeast 'proof' for 5 minutes. Whisk in olive oil, and ½ cup honey.
Add flours and salt to a large bowl. Slowly stir in liquid ingredients. Coat hands with olive oil and knead until dough is cohesive.
Turn dough out onto floured surface and knead 5 minutes more until dough is smooth and elastic. Transfer to a (clean) bowl greased with olive oil. Cover with a towel and let rise in a warm spot for 60-80 minutes.
Line a 17x12 rimmed baking sheet with parchment paper. Place dough onto baking sheet, spreading and pressing into the edges. Using your fingers, press 'dimples' into dough. Press in fruits. Cover with a damp towel and let rise again for 45 minutes in a warm spot.
Preheat oven to 425º. Drizzle remaining honey onto top and press dough back to edges of pan if it's shrunk away. Bake for 25 minutes, rotating the pan halfway. Top should be firm and golden. This focaccia is best on the first day. Enjoy!