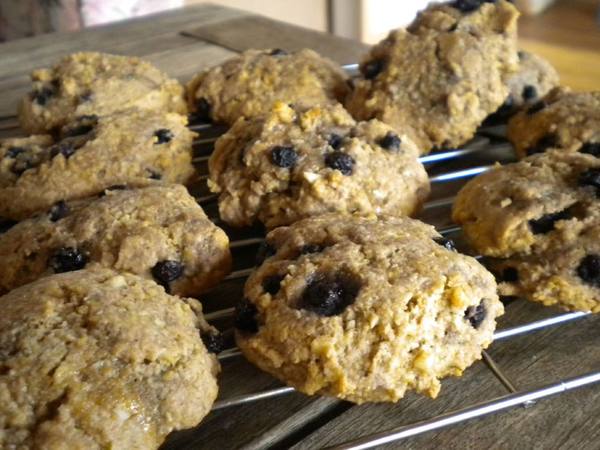 Macadamia Nut and Berry Scones
These scones work well with many different flavor variations and textures. Fresh or frozen berries, chopped dates, or raisins are some tasty substitutions.
Updated: Wed, 04/04/2018 - 9:25pm
Ingredients
2 cups whole spelt flour
½ cup fine oat bran
½ cup ground toasted macadamia nuts
1 Tablespoon baking powder
Pinch of sea salt
⅓ cup liquid coconut oil
⅓ cup agave nectar + ¼ cup to drizzle
¼ cup brewed tea
2 teaspoons vanilla extract
½ cup berries, chopped if necessary
Instructions
Preheat oven to 350°. Line a large baking sheet with parchment paper.
In a large bowl mix spelt flour, oat bran, nuts, baking powder and sea salt.
Combine oil, ⅓ cup agave nectar, tea and vanilla in a small bowl. Pour into flour mixture and stir gently.
Add berries and stir to just combine. A few dry spots are fine.
Scoop out ¼ cup batter into your hands, gently press flat on a clean surface and then place on the baking sheet. Leave about 2" between each scone. Bake for 15 minutes.
Immediately after removing scones from oven, drizzle with remaining ¼ cup agave nectar.
Let cool on baking sheet for 10 minutes, then transfer to cooling racks.
Scones can be kept for a few days at room temperature or frozen for up to a week. Enjoy!