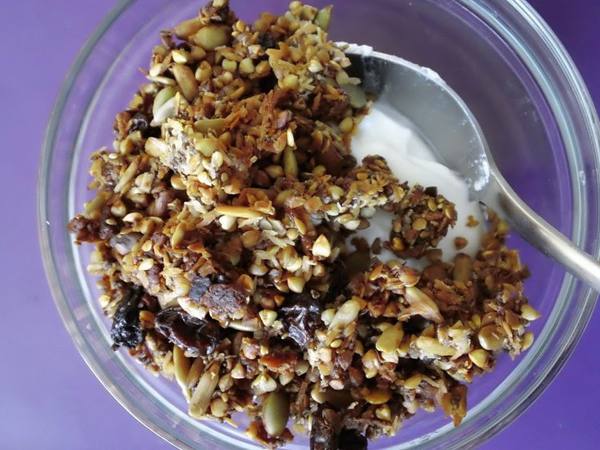 Buckwheat Cereal
Buckwheat is a gluten-free grain that is hearty and filling as a breakfast or snack. You can keep this recipe raw by using a dehydrator, or use the oven to bake it.
Updated: Mon, 05/13/2019 - 9:13pm
Ingredients
1 cup raw buckwheat, soaked 1 hour
1½ cups filtered water
¼ cup sunflower seeds
¼ cup pumpkin seeds
¼ cup raisins
¼ cup chopped dried apricots
¼ cup shredded coconut
2 Tablespoons chia seeds
2 Tablespoons coconut oil
1 Tablespoon honey or agave
Instructions
Drain soak water from buckwheat. In a large bowl, toss together buckwheat, sunflower seeds, pumpkin seeds, raisins, apricots, coconut, chia, and flax seeds. Toss to combine.
Drizzle coconut oil and honey onto buckwheat mixture and toss to coat.
To dehydrate: layer buckwheat mixture onto lined dehydrator sheets, and dehydrate at 115º for four-eight hours, or until buckwheat is crispy.
To bake: Line a rimmed baking sheet with parchment paper. Pour buckwheat into pan and bake at 350º for 30 minutes. Stir mixture, and bake 15-20 minutes longer, or until buckwheat is browned and crispy.
Let buckwheat cool completely before storing in airtight container. Enjoy this healthy snack with milk, yogurt, or by the handful!