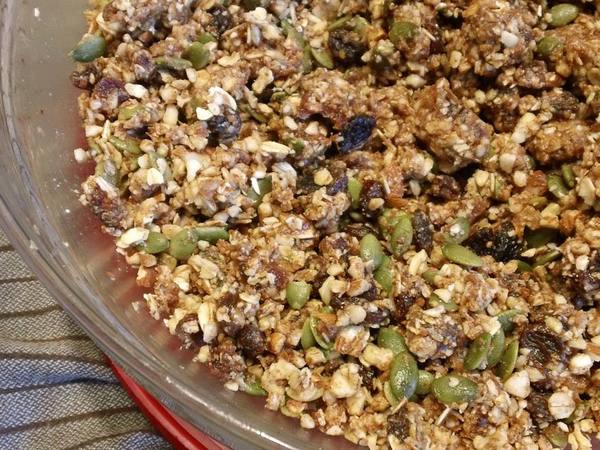 This delicious nut-based granola is great with fresh fruit, with milk or just by the handful. This is a great warm weather breakfast.
Ingredients
½ cup pitted Medjool dates
1 cup whole raw almonds
½ cup whole oats
½ cup pumpkin seeds
½ cup raisins
⅓ cup almond butter
¼ cup liquid coconut oil
1 Tablespoon vanilla extract
1 teaspoon cinnamon
pinch sea salt
Instructions
Add dates to food processor and pulse to mince (do not overprocess). Remove from processor and turn out into a large mixing bowl. Set aside.
Add almonds to processor and grind to a powder. Add to dates.
Add oats to processor and grind until fine, add to dates and almonds. Use your fingers to coat the date pieces in oat/almond flour. Add pumpkin seeds and raisins and toss until mixture is combined. Set aside.
Add almond butter, coconut oil, vanilla, cinnamon, and salt to processor and blend until creamy. Pour over granola mixture, and mix with a large spoon to coat.
Let stand at least an hour for flavors to meld. Serve cold with your favorite non-dairy milk, as a topping for oatmeal, or sprinkled over fresh fruit. Store mixture for up to a week in an airtight container in the fridge.