Chocolate Chip Macadamia Nut Biscotti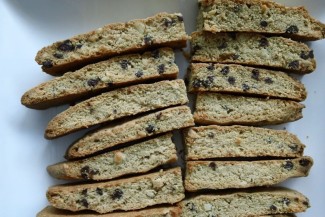 Biscotti are twice baked cookies that are made for dipping into your favorite coffees.
Ingredients
⅓ cup butter or vegan butter, room temperature
⅔ cup light brown sugar
1 Tablespoon Ener-g egg replacer + ¼ cup water
1½ teaspoons vanilla extract
1 cup unbleached all-purpose flour
1 cup whole wheat pastry flour
1¼ teaspoons baking powder
¼ teaspoon sea salt
½ cup ground macadamia nuts
½ cup mini chocolate chips
¼ cup ground mixed nuts (or more macadamia nuts!)
Instructions
Preheat oven to 350°. Line a cookie sheet with parchment paper.
Using a mixer, whip butter and sugar until fluffy. In another small bowl whisk egg replacer, water and vanilla until powder has dissolved. Add to sugar and beat until combined.
In a medium bowl sift together flours, baking powder and salt. Add flour mixture to wet ingredients and mix until just combined. Fold in nuts and chocolate chips.
Divide dough in half. Gently knead each ball until all nuts and chocolate chips 'stick.' Press onto parchment paper and flatten into a 1-inch thick rectangle slab.
Bake for 30 minutes or until golden brown. Remove from heat and let cool for 10 minutes. Slice rectangle into ½-inch wide slices.
Bake for 8-10 minutes or until golden brown. Enjoy!