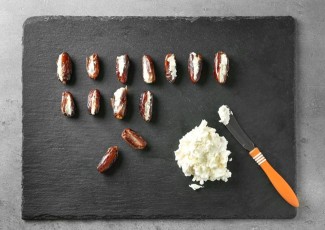 These super simple treats will satisfy your little ghouls and monsters while they wait for their candy piles to be inspected on Halloween.
Ingredients
1 cup cashews, soaked for 1 hour
1 Tablespoon agave or maple syrup
1 teaspoon vanilla extract
½ teaspoon almond extract
⅛ teaspoon sea salt
¼ - ⅓ cup water, as needed
14-16 pitted dates, soaked for 1 hour
2-3 Tablespoons lemon zest or orange zest
Instructions
Combine cashews, agave, extracts, and sea salt in a food processor. While machine is running, gradually add water in. Pulse in spurts - scraping down sides with a spatula. Only add enough water to create a smooth creamy consistency. Transfer to a bowl, cover and refrigerate for at least 1 hour.
While waiting for the cashew cream to chill, slice dates lengthwise on one side to create a large opening.
Fill each date with about a Tablespoon of cashew filling. Sprinkle lemon zest on top as a garnish. Serve and enjoy!