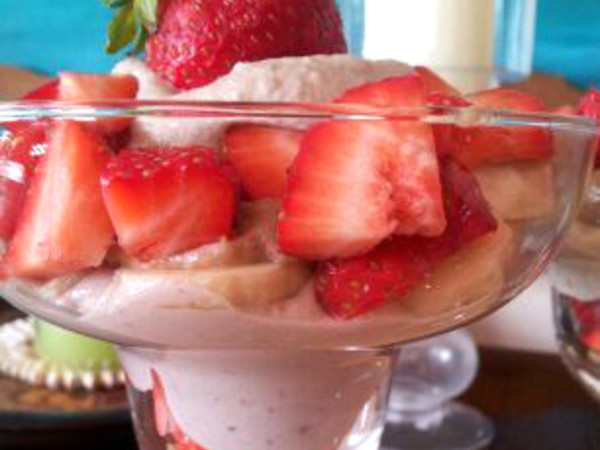 Raw Vegan Fruit Parfait recipe from Down to Earth Organic and Natural.
Ingredients
Cashew Layer:
1 cup cashews, soaked 3 hours
4 strawberries
Pinch of salt
¼ cup coconut oil
Juice of 1 orange
1 teaspoon vanilla
3 Tablespoons agave nectar
1-5 Tablespoons water
Fruit Layer:
3 bananas
4 Tablespoons almond butter
2 teaspoons vanilla* (optional)
5 dates
1 teaspoon cinnamon
2 Tablespoons raw cacao powder
10 strawberries
*Not considered raw
Instructions
Prepare Cashew Layer: Blend cashews, 4 strawberries, salt, coconut oil, orange juice, vanilla and agave nectar in a blender. Add water as needed to get a creamy consistency. Set aside.
Place all Fruit Layer ingredients, except 1 banana, into a food processor and blend until smooth and creamy.
Slice the 10 strawberries into bite size pieces.
Cut remaining banana into slices.
In a clear glass cup, place a layer of cut strawberries on bottom, spoon Cashew Layerover strawberries and then spread a layer of sliced bananas on top. Place Fruit Layer on top of bananas, add another layer of strawberries, and then add a dollop of Cashew Layer on top.
Repeat process in more glass cups for additional servings.
Eat immediately or chill for 1 hour. Enjoy!