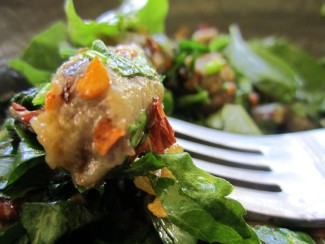 A simple, yet extremely delicious garlic and oil pasta sauce, that can be served over any pasta you like. Here the sauce is photographed on buckwheat gnocchi.
Ingredients
2-3 Tablespoons olive or coconut oil
5-10 cloves of garlic, finely chopped
1-4 teaspoons of red chili flakes, to taste
Salt, to taste
2 servings of the pasta of your choosing, cooked to taste
¼ cup of parsley, finely chopped
Suggested additional ingredients: fresh or sun-dried tomatoes; dark, leafy greens; olives; toasted nuts;
Instructions
Heat the oil in a pan and lightly sauté the garlic.
Add the chili flakes and sauté another 30 seconds.
Add your cooked pasta, parsley, and any other of your favorite pasta ingredients and toss well.
Serve immediately, sprinkled with salt, and a splash more oil if desired. Enjoy!