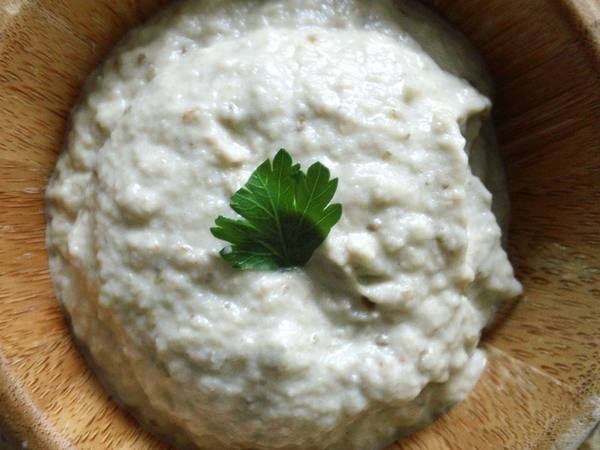 Baba Ganoush
A Levantine dish of eggplant mashed with olive oil and various seasonings.
Updated: Mon, 05/13/2019 - 8:51pm
Ingredients
3 medium eggplants
1/3 cup tahini
1 1/4 teaspoons coarse salt
3-4 Tablespoons freshly squeezed lemon juice
2 cloves of garlic, peeled and diced
Pinch cayenne
Pinch ground cumin
1 Tablespoon olive oil
1/4 cup of flat leaf parsley or cilantro, rough chopped for a garnish
Instructions
Preheat oven to 375°.
Prick each eggplant a few times. Then, if you like your baba ganoush smoky, you can char the outside of the eggplants on the flame of the gas burner, or on the barbeque or grill until they are uniformly charred on the outside. If not, skip to the next step.
Place the eggplants in a roasting tray and roast for 40-60 minutes until they are completely soft. You should be able to easily poke a knife into them and meet no resistance.
Remove from oven and let them cool.
Split the eggplant and scrape out the pulp.
Mash or blend in a food processor with all the other ingredients.
Season with additional salt or lemon juice to taste.
Garnish with the cilantro or parsley and a little olive oil drizzled on top. Serve with pita bread, corn chips, fresh bread or vegetable sticks. Enjoy!