Rosemary and White Bean Dip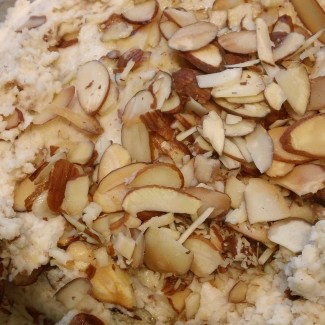 This is a fancier version of hummus, made with creamy white cannellini beans and rosemary-infused olive oil.
Ingredients
Rosemary Olive Oil
¼ cup extra-virgin olive oil
1 teaspoon chopped fresh rosemary
2 garlic cloves, minced
White Bean Dip
2 cups cooked cannellini beans
¾ cup toasted sliced almonds + more to garnish
Sea salt to taste
1 Tablespoon fresh lemon juice + more if desired
2 teaspoons lemon zest
¼-½ cup water
Instructions
Prepare Rosemary Olive Oil: Combine olive oil, rosemary and garlic in a
small saucepan. Warm over medium heat until barely sizzling. Remove from heat, and let stand 10 minutes. Strain into a small bowl and discard rosemary.
Prepare White Bean Dip: In a food processor, combine beans, almonds, sea salt, lemon juice and lemon zest with
about half of the Rosemary Olive Oil. Blend, adding water 1 Tablespoon at a time, until thick but creamy. Add more lemon juice or salt to taste.
Pour into a serving dish. Drizzle with remaining Rosemary Olive Oil and sprinkle with almonds. Refrigerate any remaining Rosemary Olive Oil in the refrigerator for up to 2 weeks. Enjoy!