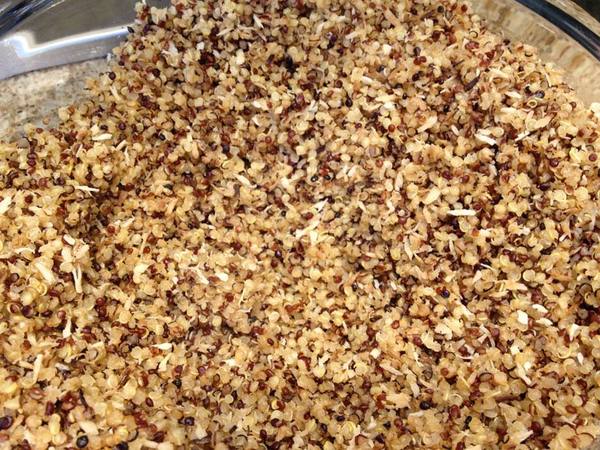 Colorful Quinoa
Quinoa is a sacred Incan grain that contains all of your essential amino acids. It is delicious, light, nutty and gluten-free.
Updated: Tue, 04/03/2018 - 9:23pm
Ingredients
Quinoa
¾ cup yellow quinoa
¼ cup red quinoa
2 cups water
Dressing
2-3 Tablespoons olive oil
1 Tablespoon umeboshi plum vinegar
1-2 Tablespoons fresh lemon juice
1-2 cloves garlic, minced or pressed
Salad
2 medium baby bok choy, finely chopped
1 large carrot, finely chopped
½-3/4 cup chopped fresh tomatoes
1 (16-ounce) can organic beans, drained
1 (16-ounce) organic corn, drained
½ cup chopped fine cilantro
¼ cup chopped parsley
½ - ¾ cup black olives, whole or chopped
Sea salt & pepper
Instructions
To prepare Quinoa: Combine quinoa and water in a saucepan. Bring to a boil then lower heat down to a simmer. Let cook for 10-12 minutes or until water has been absorbed. Set aside to cool or refrigerate.
To prepare Dressing : In a small bowl, whisk together olive oil, umeboshi plum vinegar, fresh lemon juice, and garlic.
To prepare Salad: Steam bok choy slightly for a few minutes or until just wilted.
Combine steamed bok choy, carrots, tomatoes, beans, corns and olives in a large bowl. Pour Dressing over and toss to combine.
Add in cilantro and parsley. Season to taste with fresh cracked pepper. Serve immediately or refrigerate to chill. Enjoy!