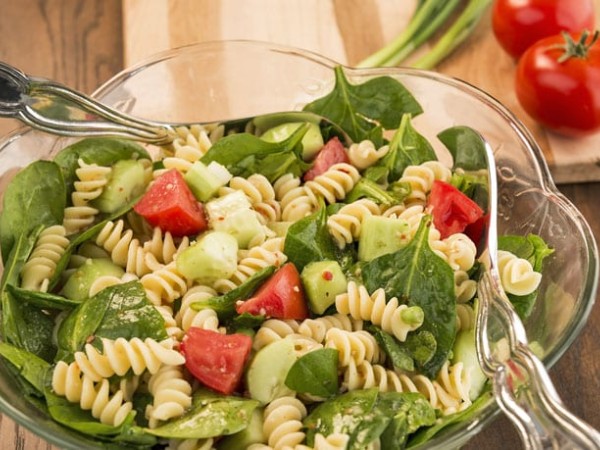 Versatile and yummy, pesto is a great way to add (or sneak!) more greens in your diet by incorporating a healthy leafy green like spinach. Experiment with other greens such as kale, broccoli or collards.
Ingredients
Pasta
8-ounces short pasta such as penne
Olive oil
2 cups spinach leaves
Spinach Pesto:
1 cup spinach leaves
1 cup basil leaves
1-2 garlic cloves
¼ cup pine nuts
¼ cup macadamia nuts
¼ cup shredded Parmesan cheese (optional)
Salt and pepper to taste
⅔ cup extra virgin olive oil
Salad
½ cup artichoke hearts
½ cup sun-dried tomatoes
¼ cup sliced red onion
¼ cup lemon juice
¼ cup toaste
Instructions
Cook pasta according to package directions. After draining and rinsing, leave pasta in colander in sink. Drizzle with a little olive oil to keep pasta from sticking. Place 2 cups spinach leaves on top of pasta to steam. Let cool to room temperature.
Prepare Spinach Pesto: Combine 1 cup spinach, basil, garlic and nuts in a food processor. Pulse until coarsely chopped. Add cheese and seasonings. Continue processing – pouring olive oil through feed tube – until pesto is fully incorporated and smooth. Yields about 1 cup pesto.
Transfer pasta with spinach to a large mixing bowl. Add artichoke hearts, sun-dried tomatoes and red onion to bowl. Pour Spinach Pesto over pasta and vegetables. Toss all ingredients well to coat evenly with pesto.
Cover and refrigerate for 2-3 hours up to overnight. Before serving, toss with lemon juice to brighten up the flavor. Garnish with toasted pine nuts and Parmesan cheese. Enjoy!