Sesame Onion & Goat Cheese Tart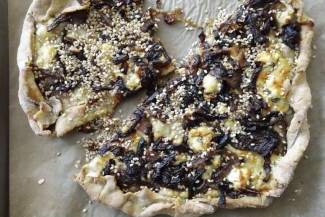 Rich onions and a creamy goat cheese make a fancy component to any meal.
Ingredients
Tart Crust
1 cup whole-wheat pastry flour
½ cup all-purpose flour
¼ cup sesame seeds
2 Tablespoons wheat germ
2 teaspoons brown sugar
½ teaspoon baking powder
¼ teaspoon sea salt
¼ cup vegan margarine or butter, grated
8-10 Tablespoons unsweetened soymilk
2 teaspoons apple cider vinegar
Filling
2 Tablespoons olive oil
2 cups thinly sliced red onion
3 ounces hard goat cheese
2 ounces soft goat cheese
2 Tablespoons fresh thyme
Sesame seeds, for garnish
Fresh cracked black pepper
Instructions
To make the Crust: In a large mixing bowl combine flours, sesame seeds, wheat germ, brown sugar, baking powder, and salt. Grate in margarine and use your hands to press margarine into flour until mixture loose like teeny pebbles.
In a small bowl mix together 8 Tablespoons soymilk and apple cider vinegar.
Sprinkle soymilk over flour mixture, tossing with a spatula to combine. Use your hands and gently knead dough until cohesive, adding extra soymilk as needed to make dough smooth. Form dough into a ball and wrap in plastic wrap. Knead a few time in plastic, and let rest in refrigerator for two hours or overnight.
Preheat oven to 400º and line a baking sheet with parchment paper.
Turn out dough onto a floured surface and roll into a large rectangle, about ¼" thick. Lift dough carefully from surface and lay onto baking sheet.
Meanwhile, prepare the Filling: In a large skillet, heat olive oil and onions. Cook over medium low heat for about 15 minutes, or until onions are very browned.
In a small bowl, mash together goat cheeses and thyme.
Spread goat cheese mixture evenly into crust, and top with cooked onions. Garnish with sesame seeds and black pepper.
Bake for 25 minutes, until crust is golden and cheese mixture is melted. Remove from oven and let cool before serving alongside a big green salad! Enjoy!