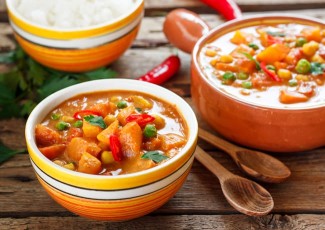 This quick, incredibly delicious recipe is from Iceland's Sigur Ross musicians and raw food enthusiasts Jonsi and Alex.
Ingredients
For Curry Soup
2 ½ cups of water
1 cup dried or fresh coconut
2 Tablespoons olive oil
1 ½ Tablespoons of shoyu or tamari
½ thumb sized piece of ginger, peeled
1 small white or red onion
2 cloves of garlic
1 teaspoon lemon zest
½ lemon squeezed for juice
⅔ teaspoon salt
¼ teaspoon pepper
Pinch cayenne pepper
1 teaspoon of cumin
½ teaspoon of tumeric
Dash of curry powder
For Noodles
½ zucchini
⅓ cucumber
¼ red bell pepper
1 tomato
Instructions
Blend the coconut and water. Strain out the coconut pulp and return the liquid to the blender.
Add all the other curry soup ingredients to the blender and mix until smooth and creamy.
Chop the vegetables as thin as possible, making noodles.
Place the vegetables sticks in the bowl, pour the curry soup over them, garnishing with coriander if desired. Enjoy!