Spinach & Mushroom Strata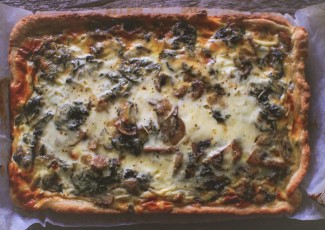 Strata is a great brunch casserole. This hearty vegan version uses blended tofu to replace eggs.
Ingredients
4 slices stale or lightly toasted rye bread, cubed
3 tablespoons olive oil
1 cup thinly sliced red onion
2 cups sliced mushrooms
3 cloves garlic, minced
2 teaspoons thyme
1 teaspoon each oregano, basil, and mustard powder
Black pepper and sea salt to taste
4 cups chopped spinach or kale
1 (14-ounce) package medium-firm tofu
¼ cup vegetable broth or water
¼ cup nutritional yeast
2 tablespoons lemon juice
1 tablespoon cornstarch
1 teaspoon ground turmeric
Instructions
Preheat the oven to 350ºF. Lightly grease an 8x8 baking dish with oil and line bottom and sides with parchment.
Add olive oil to a large skillet. Add onions and cook for five minutes on medium heat. Add mushrooms and cook until mushrooms are wilted, about 10 more minutes.
Add garlic, herbs, pepper, and salt. Toss to coat, then add spinach, stirring until all spinach is wilted.
Add cubed bread and toss to combine. Add mixture to baking dish and set aside.
Add tofu, broth, nutritional yeast, lemon juice, cornstarch, and turmeric to food processor. Blend until totally smooth.
Pour the tofu over vegetable mixture and press tofu into vegetables and bread until soaked. Bake for 50-60 minutes, until tofu is cooked through. Remove from oven, let cool, and serve! Enjoy!