Tabouli (Parsley & Bulgur Wheat Salad)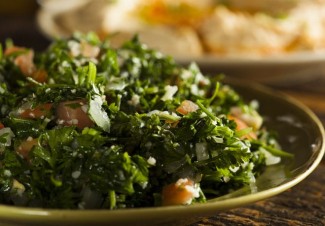 Tabouli is a traditional Arabic salad that is simple but filling. Parsley is full of minerals and chlorophyll and is a great cleansing herb.

Ingredients
1½ cups boiling water
1 cup bulgur wheat
1 bunch curly parsley, finely minced
1 cup finely minced fresh mint
1 cup de-seeded and diced cucumber
¼ cup minced onion
1 clove garlic, minced
3 Tablespoons olive oil
3 Tablespoons fresh lemon juice
Instructions
Pour boiling water over bulgur wheat in a pot. Cover and let stand for 15 minutes, or until all water is absorbed. Bulgur should be soft and light textured. Fluff with a fork, and let cool.
Add parsley, mint, cucumber, onion and garlic to a large bowl.
Drizzle with olive oil and lemon juice. Toss in cooled bulgur wheat. Let stand at least 1 hour for best flavor. Enjoy!