Vibrant Kale Salad with Tahini Dressing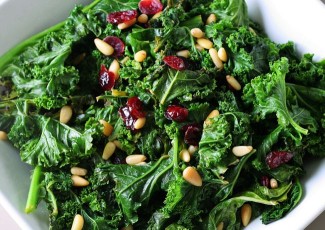 Gorgeous green kale combines with a colorful mix of veggies for a beautiful and yummy salad!
Ingredients
1 bunch kale
1 cup currant tomatoes
2 carrots, peeled into ribbons
1 cup sliced red cabbage
5 sweet peppers, sliced thinly
1 (15-ounce) can artichoke hearts, drained and chopped
¼ cup toasted pine nuts
Tahini Dressing
¼ cup apple cider vinegar
¼ cup olive oil
3 Tablespoons tahini
2 Tablespoons agave
Juice of 1 lemon
Salt and pepper to taste
Instructions
Remove stems from kale and place in a large bowl. Tear into small bite size pieces and massage with your hands until bright green and wilted.
Place remaining vegetables and pine nuts in bowl.
Whisk Tahini Dressing ingredients together in a medium sized bowl until smooth.
Pour dressing over salad, and toss well to combine. Enjoy!